Flørli og Lysefjorden
Lysefjord is one of Norway's most famous fjords. Along the fjord we pass several well-known locations such as Preikestolen (the Pulpit Rock), Flørli, Kjerag and lastly, Lysebotn. The towering mountains surround us on our way inwards, and rises 600 to 1000 meters above sea level. Legend has it, that on the day 7 sisters from Lysebotn ("bottom of the fjord") marry 7 brothers from the top of the fjord, the Pulpit Rock will fall into the sea. As far as we know, there are no romance rumours to suggest it, therefore we look forward to several fjord cruises this season as well.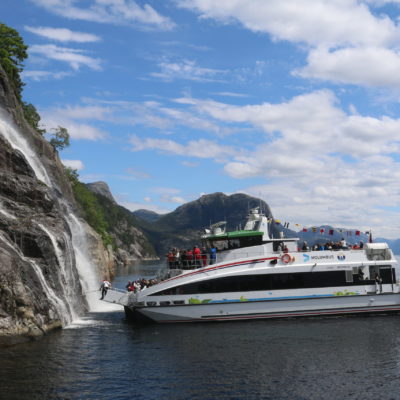 Cruise Flørli and Lysebotn
On our trip to Flørli and Lysebotn we make a stop by all the famous locations. Upon arrival in Flørli, passengers can make the trip up the 4 444 steps from the shoreline, up to the top of the mountain that sits 740 meters above sea level. Those who pass on the stair climb may stay on board and continue the cruise into Lysebotn, and back out to Flørli. While in Flørli, Hessel Haker, offers a guided tour through the Flørli village. Lunch is included in the ticket.
Weekdays:
Sundays from June 27th to August 15th.
Time:
9 hours from Grønvik
7 hours from Jørpeland
Departure from:
Grønvik, Byre, Sør-Bokn, Sørvåg, Sør-Talje, Tau and Jørpeland.
Departure:
Grønvik 09.00
(to see all departures, choose "Read more")